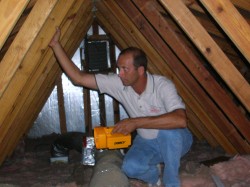 KNOW WHAT TO EXPECT

You receive the most complete and comprehensive report available today that has been proven in thousands of inspections.

This matrix combines a detailed checklist and narrative of each important element. Itís easy to understand ďmatrixĒ format will tell you the condition of hundreds of items in the home you are considering.

You are urged to meet the inspector at the property. Each visible element and system will be inspected and explained at that time. Your inspector will answer your questions and report verbally and in writing on:
---

Grounds/Grading
Porches/Patio/Decks
Driveway/Sidewalks
Fences/Gates
Exterior Finish/Trim
Gutters/Downspouts
Foundation/Slab
Attic/Ventilation
Roof
Insulation
Plumbing
Water Heater
Heating
Floors
Electrical
Walls/Ceilings
Air Conditioning
Windows/Doors
Ceiling Fans
Smoke Detectors
Garage/Door Opener
Fireplace/Chimney
Major Appliances
Laundry Room
Bathroom/Fixtures
Termite*
*Provided by separate licensed pest control company, for an additional charge.
Our MATRIX INSPECTION REPORT is comprehensive and covers every item inspected according to the Standards of Practice set forth by the National Association of Certified Home Inspectors. (NACHI).

NO WAITING! (Important when contingency time is short).

Consultation at the time of inspection is available to all clients FREE OF CHARGE.
FAST 24 hour response to your call!