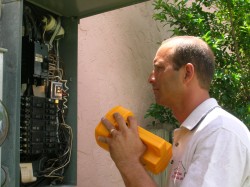 The Four Point Insurance Inspection was created after Hurricane Andrew struck Florida in 1992. It is performed on behalf of the insurance companies and, typically, as a requirement for the insurer offering insurance to the new homeowner. After last year's barrage of hurricanes in Florida, the Four Point Insurance Inspection has taken on added importance. As insurance companies are beginning to see the benefit of the inspection, the program is spreading to other areas of the country. The benefit to the insurance company is, obviously, reduced loss risk on homeowner's insurance policies. This is an area of business that has, for many years, been a money loser for insurance companies.

In 2002, the Florida Legislature passed a law that combined the Florida Residential Property and Casualty Joint Underwriting Association (FRPCJUA) and the Florida Windstorm Underwriting Association (FWUA). This resulted in the creation of Citizens Property insurance Corporation (Citizens), which more efficiently and effectively provides insurance to, and serves the needs of, homeowners in high-risk areas and others who cannot find coverage in the open, private insurance market. It is funded by premiums paid by the insured and from other insurance companies paying into the program to reduce their overall losses.

The Four Point Inspection consists of the following four systems:
* Roof inspection
* Electrical Inspection
* HVAC (Heat, Ventilation & Air Conditioning
* Plumbing

The insurance companies are looking for the four systems to be in generally good working condition and fulfilling their intended function. If the home is an older home the insurance companies want to see that the systems have been updated. In most cases, the forms are provided by the insurance companies to their clients. The clients then ask the inspector to fill the form out during the course of the home inspection.